LEARN ABOUT THE DIGITAL TRENDS OF TOMORROW TODAY
Request Access to PhotonWorld 23 Sessions
WHAT IS PHOTONWORLD
PhotonWorld is more than just a tech conference, it's a platform where we reconnect with peers we've worked with across multiple companies—relationships that span decades. It is a moment in time where we celebrate their success and provide our point of view on which digital trends will shape industries globally in the next 3-5 years.
WHAT HAVE WE PREDICTED AT PAST PHOTONWORLDS
At PhotonWorld 2014, we foresaw the shift toward Big Data and the competitive advantages it would bring to data driven companies.
At PhotonWorld 2016, we spoke about the challenges of Two-Speed Architecture and the imperative to shift to Digital Enterprises—For your systems of records to move at digital speeds. The emergence of Natural Language Processing and its future impact on contextual search and customer experiences.
In 2018, at PhotonWorld, we highlighted the transformative impact of Artificial Intelligence on automation and the benefits of the potential AI offered. We foresaw AI's ability to generate content, craft images, and develop code.
Today, these past PhotonWorld predictions have manifested into reality.
WHICH BRINGS US TO PHOTONWORLD 23
PhotonWorld 23, held at NYSE, embraced the theme "Tomorrow Makers." A toast to our customers who are making tomorrow happen today. The event saw the convergence of industry trailblazers to discuss the latest digital trends such as Generative AI, Web 3.0, Decentralized Internet, the demise of Third-party Cookies and Tokenization of Consumer Data, Big Data, Cloud, Martech, and more.
Each session unveils our latest digital predictions and when we believe they will materialize – after all we help the Tomorrow Makers make tomorrow happen today.
To learn about the next wave of predictions, request access to PhotonWorld 23 sessions.
Request Access to PhotonWorld 23 Sessions
PhotonWorld 23 Sessions
Gain a comprehensive understanding of our POV on the latest digital trends. Request access to the full PhotonWorld 23 Sessions today.
To view the entire session, request access by filling out the form below.
Requests are subject to review and approval.
Key Moments from PhotonWorld 23
Important Note: All recordings of PhotonWorld 2023 are the property of Photon Interactive UK Limited. You may request permission to view one or more of those recordings from Photon, and if your request is approved by Photon, you will be granted a limited, non-exclusive license solely to view the video for your own personal uses. No other licenses or rights to the recording(s) are granted, any such license may not be transferred or sub-licensed, and any other uses, creation of derivative works, distribution, copying or modification of the recordings, including removal of their copyright notices, are strictly prohibited. Photon reserves all rights not expressly granted to you by its limited license.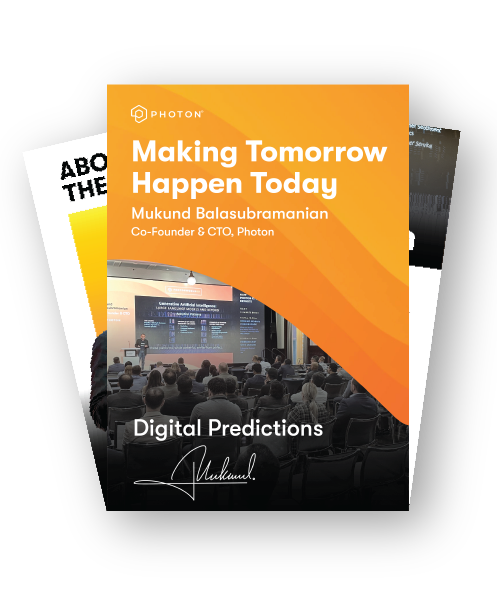 Digital Predictions by
Mukund Balasubramanian